| | | |
| --- | --- | --- |
| Welcome | | You are not currently logged in. |
| | | |
| --- | --- | --- |
| | | |
| | | |
| | | |
Original Signs are accepted from Local 1205 members by completing the online form at anytime. If you had previously been working please include the date of termination. Thank You!
BI-ANNUAL RE-SIGN PROCEDURES

1. Re-signs must be received in January and July during the week of the 10th-16th
2. Book signs accepted from members in good standing with current dues receipt
3. Local 1205 members may re-sign by one of these four (4) methods:
MAIL -2510 NW 6th Street, Gainesville, FL 32609
FAX – 352-376-9922
IN PERSON
ONLINE FORM – found on our website www.ibew1205.org
4. All Book 2 signs not done in person must be mailed or faxed from the traveling member's home local and include all of the following information:
Full name
Address
Card number
Current Dues Receipt
Birth Date
Contact phone number
Social Security number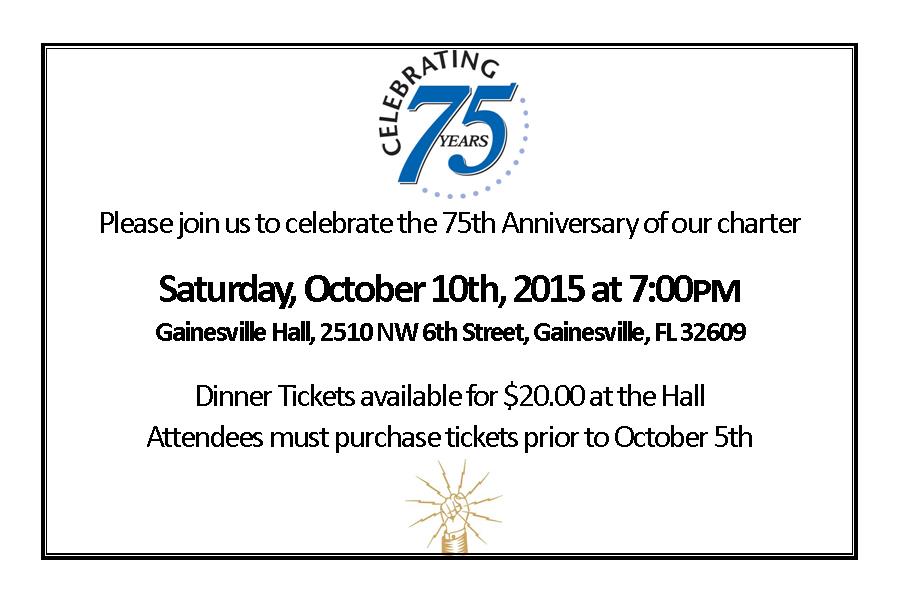 Catered Anniversary Dinner menu:
Ribeye Steak
Garden Salad
Baked Potato Casserole
Dinner Rolls
Sweet and Un Sweet Tea
---
Special Notice…
The following bylaw changes were approved at July 10th's Regular Meeting:
Approved change to Article 10 Section 6 (to go into effect September 2015 upon the expiration of the current $15.00/month special assessment) therefore:
"A" Member monthly dues 09/2015-12/2015 will be
$34.00 - Apprentices and $38.00 for all other Classifications.
BA members, excluding City of Ocala, will be $32.00/mth.
Approved change to Article 14 Section 11
Sec. 11. The following Units are hereby established in the jurisdiction of Local Union
ADD 1205.3 City of Ocala
Please see the dispatch section of the website for job call details
| | | |
| --- | --- | --- |
| | Upcoming Events | |
| | | |
| | | |
| | | |
| --- | --- | --- |
| | Action Center | |
| | | |
| | | |
| | | |
| --- | --- | --- |
| | Action Center | |
| | | |
| | | |